Atomium MAX 200 MGSB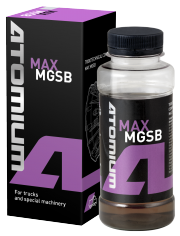 Price:
81.55 €
(inc. VAT)
Sale: -20% 65.24 €
Volume: 200 ml
Features
The compound is designed to protect against wear, increase the lifetime and recovery characteristics of mechanical gear boxes, transfer boxes and reducers of trucks and special machinery during normal operation
Usage
Tribotechnical compound «MAX MGSB» is applied in one stage in accordance with the following procedure:
Warm up the gear box up to operating temperature (regular operation).
Stop the engine
Shake the can thoroughly until natural sediments (active components) are totally dissolved.
Fill in compound through the unit's regular oil filling neck at the rate 10 ml of the compound per 1 L of transmission oil.
After applying the engine should run (it is recommended to drive the car) for no less than 20 - 25 min. in mode of regular operation.
After the procedure you can use the car as usual.
Effects
Facilitates gearshift
Significantly reduces noise and
vibration levels
Increases free car run
Protects the gear box against wear
Preventive effects:
Protects units against wear
Reduces friction loss
Accelerates process of engine run-in