Tribotechnical compound Reducer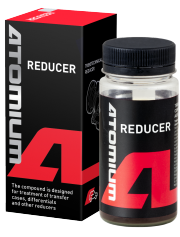 Part number: 121052
Volume: 100 ml
Features
Tribotechnical compound «Reducer» is designed to protect against wear, increase the lifetime and restore characteristics of transfer boxes, limited slip differentials, viscous couplings, haldex clutches, increased friction reducers and other reducers which use any type of transmission fluid.
Usage
Treatment of transfer cases, differentials and other reducers is made in accordance with the following procedure:
Warm up the unit to operating temperature (regular operation). It takes usually 15-20 minutes of unit operation under load.
Stop the engine
Shake the can thoroughly until natural sediments (active components) are totally dissolved.
Apply 1 can of the compound through unit's regular filling neck. 1 can is enough for treatment of the unit with transmission fluid volume from 0.7 to 2.2 liters.
It is recommended to drive the car for no less than 25 - 30 min. in mode of regular operation after applying.
After the procedure you can use the car as usual.
To provide continuous level of protection of the unit it is recommended to apply the compound further after each scheduled replacement of transmission fluid.
Effects
Decreases noise and vibration level
Increases the car free run (in neutral gear)
Increases engine lifetime