Novelties and hits of ATOMIUM in 2021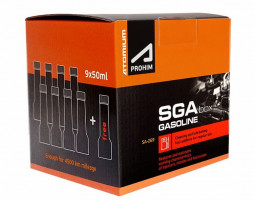 The popular fuel additives for permanent use of SDA (for diesel fuel) and SGA (for petrol fuel) of the brand Atomium Aprohim are now available in convenient boxes of 9 pieces. At the same time, in each box, a motorist receives one bottle for free.
Choose a product for non-disassembly repair and prolongation of the life of your cars on the website www.atomium.eu
Ask your dealers in your countries.
Representatives of the Atomium export trademark.
Or in the official Atomium online store - www.atomiumshop.eu
www.atomiumshop.eu/en/atomium-aprohim-sda-cleaning-fuel-additive-for-diesel-1/
www.atomiumshop.eu/en/atomium-aprohim-sga-cleaning-fuel-additive-for-gasoline-1/
www.atomiumshop.eu/en/oil-additive-active-standard-for-non-turbocharged-engines-with-a-volume-of-up-to-1-6-liters-to-eliminate-oil-consumption-bullying-restore-compression-and-power/
Thank you for choosing Atomium!